WHO ARE WE?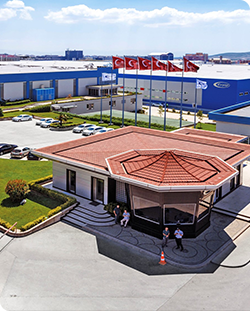 As time flows by like a river, happy memories remain with EVYAP!
A success story which started with big dreams in a small atelier at 1927 in Erzurum…
Evyap's founder Mehmet Rıfat Evyap's biggest principle was to produce quality goods, as he started his adventure with one of the most natural symbols of hygiene; soap. Today, within the framework of that basic principle; products produced with the latest technology are offered to everyone. With an unchanging quality level in various categories like soap, shower-gels, shampoo, shaving products, skin care creams, scented cosmetics, baby diapers and toothpaste; Evyap became an irreplaceable part of life.
EVYAP performs an important part of the soap and personal care product exports of Turkey and transports its name to more than 100 countries. Evyap has been manufacturing in 3 different countries compatible with European standards and besides it has built the world's biggest Oleochemistry Plant in Malaysia.
Important brands like Duru, Arko Men, Arko Nem, Evy Baby, Fax and Activex are embodied by EVYAP and in the year 2006; both Duru and Arko have been qualified to join the Turquality program. Besides all of the above, thanks to EVYAPPORT which has the title of Turkey's fourth biggest private port; it has a say in the international arena.
Evyap, with innovative studies and investments, cares to use natural resources in a productive way. Owing to its strong Research & Development Center, Evyap has been working on the personal care and cleaning products in a customer-oriented way. With more than 3,000 employees, Evyap is one of top 100 industrial corporations of Turkey and makes "contracted production" with world's leading brands.
Starting off with the love of soap, Evyap will continue to work for a cleaner future both for the World and our country with all of its existing power and will continue to enrich your life.
Brands Arko and Duru are supported by the Turquality program. Turquality is the world's first and only branding support program which aims to create 10 global brands in 10 years.