To make Evyap an innovative international Turkish company, leader in personal care and hygiene products, responsible towards its customers, society, employees, and the environment;

Develop the technology we use, as well as our product and service quality, decrease workplace accidents and occupational diseases by protecting our employees and promoting health and monitor customer feedbacks to better ourselves,
Provide customer satisfaction by effective administration, communication and conscious employees to decrease our mistakes to the minimum,
Evaluate customer feedbacks in an objective way and suggest the best possible solution to the customer by also giving the right to return the product,
Contribute to the happiness of the society by demonstrating innovative, environmentally friendly products of good quality produced in accordance with the relevant legislation to Quality, Environment, Occupational Health and Safety, GMP and Reach,
Prevention of major industrial accidents and limiting potential adverse impact on the environment and human make the necessary plans for the environmental rehabilitation , preventive and protective measures to take ,
Obey internationally accepted ethics rules
Share our works with our employees, customers, shareholders and the society of protecting the world we live in by reducing non-recyclable waste, using the renewable sources and recycling,
Are our duty as managers and employees of EVYAP.
The indispensable principle we live by is to protect our natural riches for the next generations by taking some actions towards sustainable progress.
EYVAP meets customer needs and expectations consistently and in parallel with the goal of achieving the best, to be performed in all areas of quality and be transformed into a way of life, has been working with the principle of quality.
We manage our operations effectively with the Total Quality Managament awareness. In the light of Total Quality Management we make the people our priority. Our goal is to provide quality, productivity to increase employee loyalty. By constantly developing our quality and product advancement we keep up with the internal and external markets.
In Evyap we believe in the quality of the input as well as the trust we build with our suppliers. This plays a huge role in providing the economic and fast input with the best quality.
First quality management system of Evyap was certified in 1995. Today we continue our work with TS-EN-ISO 9001 and ISO-9001 documents.
Employees are encouraged to participate in amending the company by proposal development systems and a number of quality assurance project development plans.
In light of Total Quality Management, Evyap increases its product and operation quality by also being aware of its responsibility towards environment and the public.
Evyap also promises to obey the laws enacted by the Ministry of Health and follows updated GMP and international standards of the field.
GMP is a precaution list that was created to track production of food, pharmaceuticals, medical devices which have a straight impact on human health. It helps to monitor the production, prevent the contamination of the products, and increase the security. Companies that are loyal to GMP become the first choice for conscious consumers. GMP certificate is the proof that the brand acknowledges label assurance and offers the best quality products. GMP is not only the hygiene rules personnel should follow in the production process but also a sum of all the applications, scientific methods and principles.
Evyap had its GMP certified in 2012.
Evyap takes it as a principle to offer quality products that contribute to customer satisfaction.
Environmentally sensitive Evyap owes its success to the vision "Offer best quality consumption products in the most proper conditions," that is also a base for customer satisfaction. All the customer suggestions and claims are collected (through call centers, emails, web site, fax, letters, social media, and dealers) in a suggestion pool that help us to give a better customer service.
Customer Care Call Center: 0 850 211 08 10
E-Mail : tuketicidanisma@evyap.com.tr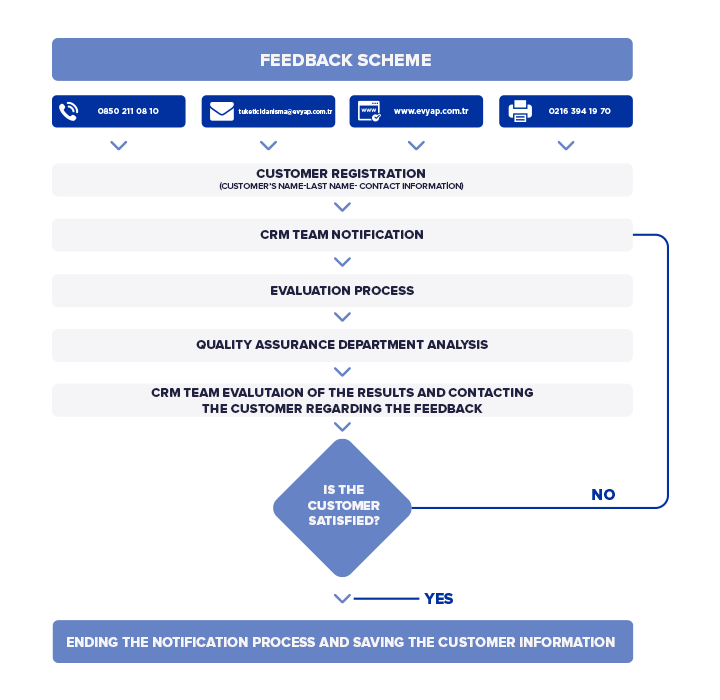 Evyap uses environmentally friendly materials in its production process. This way we aim to leave a livable environment to the next generation and protect the ecological equilibrium with a more conscious use of natural sources. We include this fact in our management programs such as "environment management systems" and create our goals and objectives around this idea.
Energy used in our facilities is mostly produced in the energy unit within our company.
TS EN ISO 14001 Environmental Management System Certificate has been issued to Evyap thanks to our environmental works in 2003. Our Evyap facility in Tuzla was awarded with the Istanbul Chamber of Industry Sectorial Environment Prize in 2005.
Environment Prize
Evyap facility in Tuzla was awarded with the prestigious Environment Prize by Istanbul Chamber of Industry in the "Forestry, Papery and Printing" category.
Evyap evaluated all the issues concerning employee health and workplace safety and determined its goals and objectives towards decreasing these risks.
Evyap got its TS 18001 Workplace Health and Safety certificate in 2005.
Global forest and forestry activities that give direction to the FSC Forest Stewardship Council, the creation of management of the world's forests and is an independent organization founded to develop. Ongoing since 2008, is being expanded forest management system and dissemination activities are continued.
The world's millions of hectares of forest area in many countries has been certified by the FSC forest management standards conformance. Currently, work continues to increase certification. Forest Products lumber with the FSC labels on consumers, wood, paper products, etc. While that makes it easy to choose the products reveals a situation that adds confidence and quality products.
FSC Evyap works have been documented in 2013.
FSC Policy
EVYAP, as long as it has FSC certification declares that directly or indirectly will not take place in the following activities seen as unacceptable by the FSC.
Made the cut or trade of illegal wood or forest products,
Traditional rights and human rights violations during forestry operations,
The destruction of high conservation value forests during forestry operations,
Conversion of native forest to plantations or non-forest land,
The use of genetically modified organisms during forestry operations,
ILO ( International Labour Organization ) work on fundamental principles and rights as defined in the declaration of any violation of ILO Fundamental Conventions,
Sedex, is a community of buyers that targets continuous improvement in ethics of the companies that make up the supply chain. Companies use a common Sedex database, in order to participate in the working groups, take part in the decision making process, and also to communicate with other Sedex members.
As a member of Sedex system firms having an audit in Ethics / Social Compliance upload their results to the system. This way they authorize the audit results to be seen by multiple Sedex members. Thus, different companies wouldn't need to have an audit.
Evyap Sedex/SMETA (Sedex Members Ehical Trade Audit) was certified in 2012.
The process is not carried out one by one instead are investigated as a whole. With this approach, for example: all steps of the Supply Chain can be analyzed as an association with other processes, improvement areas can be identified.
Thanks to processes defined on the system employees can see the interaction with other processes and are able to identify the disconnections. On the other hand through this process flow improvements identified in the project are implemented.
Evyap Soap ' in the change of process management; a process change is being addressed through the integration of information systems after being moved to the flow of specific control and enterprise resource planning approval stage and is taken into effect after tests are carried out.
Evyap Soap, in other affiliated organizations both in Egypt and Malaysia extended the standard for the execution of the process system and ensure the sharing process to be up to date.
By the leadership of process management unit the performance of the processes are being measured improvements priorities and resource planning is done according to the measurement results.
Excellent organizations meet or exceed the expectations of all stakeholders and know how to maintain this performance.
Evyap began its journey to excellence in 2012. After adopting this model, taking into account the excellence concepts and criteria of the model, it has identified strengths of this model areas open to improvement. It prepared development plans for the continuing development approach.
After completing the improvements using this model, Evyap has been awarded a 4-star certificate in 2013. It was awarded with the certificate on 12-13 November 2013 at the 22 Quality Congress at the Congress Center in Istanbul. Evyap is in an ongoing journey to excellence and is also among the candidate companies for Excellence Award. Evyap is also a member of the National Quality Movement.