– Research of Cosmetic Products
Research activities for cosmetic applications are carried out. The Department of Cosmetic Research was created to search global trends; answer consumer needs, follow updated regulations and analyze the competitors. It is aiming to improve relations with universities, world of science and global institutes as well as suppliers.
– Development of Soap & Cosmetic Products
All the development activities of Soap & Cosmetic products are being conducted at R&D Center located at Tuzla. The team is working for the development of innovative products that can meet with consumer needs. We are trying to catch the last technologies, raw material alternatives and concepts at bar soap & cosmetic products.
The group's design is based on product formulation type which is Personal Wash, Men Care & Aromel Products and Skin Care & Sun Care Products. This design gives opportunity to understand the market needs and also gives chance to specialise at product groups. All the formulation designs, stability tests, claim alternative studies, the performance tests that must be followed for the product group is under Product Development responsibility. For launching a new product to consumer, Development department is collecting raw material suppliers suggestions, patent searches for that new product, consumer needs, and also collaborations that can be with universities.
The main target of Product Development Department is, launching innovative products to market with the latest technologies and approved formulations with consumer tests.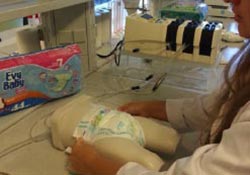 – Research and Development of Hygiene
The Department of Hygiene, Research and Development does researches for hygienic practices and tests it. With developing competitive products, it fulfills consumer's demands and proves that it also is improving technology of Evyap through following technological advancements. In addition, the use of technology is providing competitive cost level.
– Research and Development of Packaging
The department follows the latest improvements in the market and applies them on the product packaging. Packaging Department is continually improving Evyap's packaging processes and produce new solutions to reach maximum efficiency. Evyap creates close relationships with interior and external partners for maximum level of production and efficient information share. It plans effective solutions for fast and timely implementations. The environmental responsibilities are also at the focus, in parallel with improving sustainable product objective in the Packaging Department.
– Perfume Development
This department works on improvements of perfume smells. The Perfume Development Department determines the tendencies based on current consumer demands and applies these tendencies to products and smells.
– R&D Product Testing Department
R&D Product Testing Department supports R&D through internal panel tests to get insights about consumer preferences like which concept, formula, perfume is being perceived better to guide development and also to choose the right candidate for external consumer focused studies. The department works close with external testing companies expertised on their fields to conduct chemical tests, product safety tests, performance tests and claim support studies. To keep up with a wide perspective the department is continuously on investigation on evaluating new analysis methodologies and communicating new potential partners following scientific principles.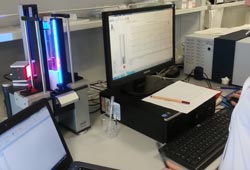 All Research and Development activities are conducted at the Research and Development Center Building, in Tuzla.
There are 42 Research and Development personnel that belongs to different disciplines in the currently active 2.242 m2 facility. Employee profile is; %12 PhD and upper degree, %26 Master's degree, %31 Bachelor's degree..
With laboratories and high capacity equipment Research and Development Center conducts large scale researches about products. Each department has 800 m2 of space and own laboratories.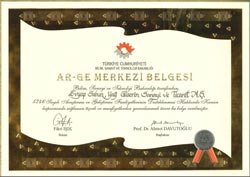 As of 01.10.2014, Evyap Research and Development Department, is the first company that received Research and Development Center certificate in cosmetic industry. The certificate is granted by the Ministry of Science, Industry and Technology for qualified R&D Centers. Evyap R&D Center has already completed 3 TEYDEB projects successfully and conducting one more nowadays.
Through the result of the Research and Development Center's research progress new products has been developed. Until today, the R&D Center has filed 8 patent applications arising out of its innovation projects. The Research and Development Center through its innovation progress is aiming to increase number of patents and to create new projects in near future.
As a result of Research and Development activities there are many novel industrial design registrations on as packaging components like caps, bottles, package, soap, pattern designs, razor blade and hygienic pad in addition to patterns.